Aim for the Top!
Volume 1

"Unbelieveable! Amano and I are Piolots?!"
"The Challenge of the Fearless Girl Genius"

Volume 2

"First Love, First Sortie"
"Launch! The Uncompleted Final Weapon"

Volume 3

"Please! Save Some Time for Love"
"At The End Of The Endless Stream"
---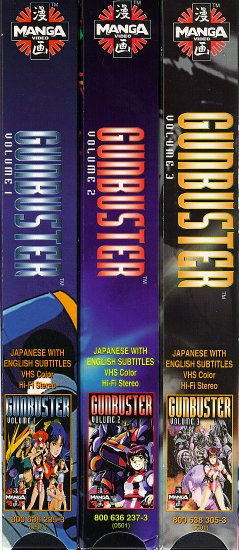 Type: series two episodes per tape
Genre: science fiction, mechs
Dub/Sub: Subtitled
Length: ~30 minutes per episode
Copyright date: 1988/1996
Animation quality: 6
Rating:

                      V------------V
          G-----------PG----------PG13-----------R------NC17

Why: v, n, mt
General overall quality: 7.5
Distributed by:Manga

It is early in the 21st century and Earth has reached out into space. On one of these missions, mankind meets up with nasty, large space creatures who seem completely antagonistic towards mankind.

Noriko Takaya's father was the captain of this space ship and now Noriko wants to follow in her father's footsteps and become a space pilot.

However, while Noriko has a lot of raw talent for the mechs that will be used to defend Earth, she just does not seem to be very good at them. It comes as quite a supprise then when Noriko is selected along with Kazumi Armano, the best cadet at the school, to become space pilots.

Noriko must prove herself, both to Kazumi and herself. She must Aim for the Top.

Noriko must also become the pilot of Earth's last hope.... She is to be the pilot of the Gunbuster, a mecha that is about as tall as a skyscraper in any large city.

Gunbuster has romance, hardship, friendship and sacrifice. It also has giant robots, huge nasty space monsters and well thought out laws of physics. There are not many pieces of Anime that blend so many different genres together into one series.

Because of this, however, to get the full effect of Gunbuster one almost has to watch the entire series.

Gunbuster has been released previously by U.S. Renditions.
---

eturn to main Anime page.

Previous review (Gude Crest).

Next review (Gunsmith Cats).

oto the recent changes page.

isit the "pixselector" main index.

ip over to my home page.