Volume 1

"Launch Tank Police"
"Charles Brenten, Master Detective"

Volume 2

"Limit the Tube Way"
"The Chase"

Volume 3

"Conflict City"
"End the Dreaming"
---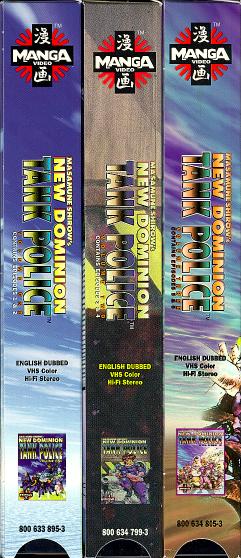 Type: series in 6 parts on 3 tapes
Genre: Cyberpunk, dark future, science fiction
Dub/Sub: Dubbed
Length: 60 minutes per tape
Copyright date: 1993/1995
Animation quality: 7.5
Rating:

                      V-------------V
          G-----------PG----------PG13-----------R------NC17

Why: v, al
General overall quality: 8
Distributed by:Manga

A bit lighter then the original Dominion Tank Police.

Leona and the Tank Police are back. It seems that the mega corporation Dai Nippon Giken seems to up to no good.

If that was all that was going on in Newport City it would be a boring city, but there is also:
An old friend of Leona is murdered.
Leona resigns from the Tank Police
Leona is captured by Dai Nippon Giken. This is bad
A very large truck is out of control and heading for the center of Newport City. The truck is loaded with a powerful explosive.
Bonepart is stolen by the two cat sisters.
The mayor is attacked by a nasty weapon and nearly killed.
Al is shot.
Leona shots down a plane with an automatic machine gun.
All told, New Dominion Tank Police is a lot of fun. If you enjoyed the first series or you like movies such as RoboCop or Bladerunner then you will probably enjoy this series.
---

eturn to main Anime page.

Previous review (Neon Genesis Evangelion).

Next review (Night on the Galactic Railroad).

oto the recent changes page.

isit the "pixselector" main index.

ip over to my home page.