Episode 1 - "And So They Met"

Episode 2 - "Tokyo Typhoon Rally"

Episode 3 - "Love's Highway Stars"

Episode 4 - "On The Road Again"
---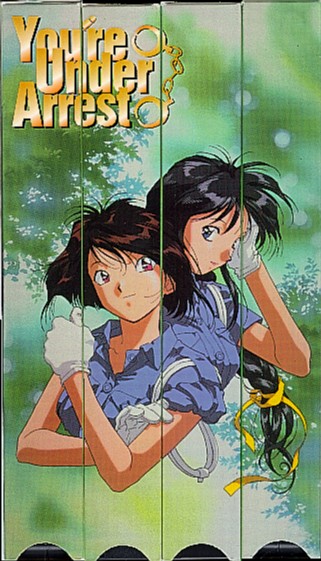 ---
Type: series in 4 parts on 4 tapes
Genre: Buddy, cop
Dub/Sub: Subtitled
Length: 25 minutes per episode
Copyright date: 1994-1996/1996
Animation quality: 8
Rating:

          V-------V
          G-----------PG----------PG13-----------R------NC17

Why: al
General overall quality: 9
Distributed by:AnimEigo

Modern day Tokyo.... Tsujmoto Natsumi is late for her first day at her new job as a policeman in the Bokutoo Precinct. As she is speeding her way she is noticed by a female policeman who is out on patrol. After a small amount of evasive maneuvering on Natsumi's part and a small run in with a cat.... One Kobayakawa Miyuki, the cop, catches up with her.

Naturally, Miyuki is also from Bokutoo Precinct and is, in fact, Natsumi's new partner. The two are very different.... Natsumi is constantly late and quite impetus, while Miyuki is very neat and always thinks though things carefully [she also seems to be a major motorhead and car buff]. Will they be able to work together and get along?

Well, of course they will, as this is a nice series and a lot of fun to watch.... Also featured, among others:
Nakajima Ken - another officer in the Bokutoo Precinct who really likes Miyuki, but is too much afraid to say so.
Nikaiddo Yoriko - another officer in the Precinct who is responsible for many many rumors about Ken and Miyuki.
Chiby - a cat which shows up in the series.
Temple priest - the uncle, and a former policeman, to the Captain of Bokutoo Precinct. He is a major car buff, even more so then Miyuki.
---

eturn to main Anime page.

Previous review (Yotoden: Chronicle of the Warlord Period).

oto the recent changes page.

isit the "pixselector" main index.

ip over to my home page.