Part 1

Part 2

Part 3 and 4
---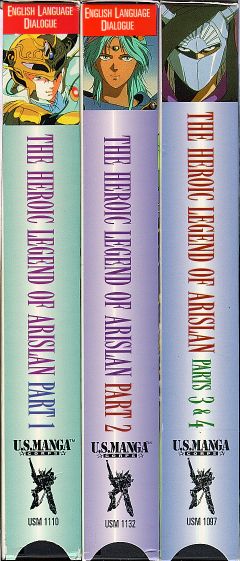 Type: series
Genre: Fantasy
Dub/Sub: Dubbed [Parts 1 and 2], Subtitled [Parts 3/4]
Length: ~60 minutes per tape
Copyright date: 1992/1993 1993/1994
Animation quality: 7.5
Rating:

                      V--V
          G-----------PG----------PG13-----------R------NC17

Why: V
General overall quality: 8
Distributed by:U.S. Manga Corps

A fantasy series that appears to be based upon a Persian legend.

In general, this is a story of how a young king, Arislan, attempts to retake his kingdom of Palse back from Luistanian invaders. The cast includes:
Arislan - The crowned prince of Palse who is leading the revolt to take back his kingdom.
Daryoon - A close friend and adviser to Arislan, as well as a great swordsman.
Narsus - A former advisor to the court in Ekubatana, the capital of Palse until he fell into disfavor. Now acts as an advisor to Arislan.
Pharangese - a holy warrior. She is vowed to protect Arislan and fight with him.
Heroic Legend has all the required elements of a proper fantasy story, including magic, sword fights, traitors, and general purpose all around nasty dudes.
In general, I liked the The Heroic Legend of Arislan and I believe that most fans of fantasy will also enjoy the series.
---

eturn to main Anime page.

Previous review (here is Greenwood).

Next review (IRIA).

oto the recent changes page.

isit the "pixselector" main index.

ip over to my home page.