[A.K.A. Ah, My Goddess]
Episode 1: Moonlight and Cherry Blossoms

Episode 2: Midsummer Night's Dream

Episode 3: Burning Hearts on the Road

Episode 4: Evergreen Holy Night

Episode 5: For the Love of Goddess
---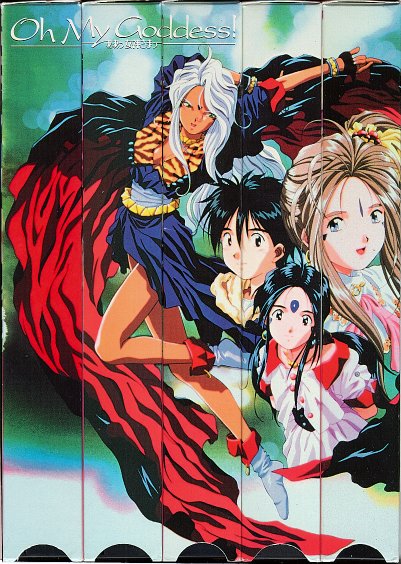 ---
Type: series in 5 parts on 5 tapes
Genre: Fantasyish
Dub/Sub: Subtitled
Length: E1-4 ~30 minutes ; E5 40 minutes
Copyright date: 1993-1994
Animation quality: 8
Rating:

                  V----V
          G-----------PG----------PG13-----------R------NC17

Why: al
General overall quality: 9
Distributed by:AnimEigo

Watch out for those misdialed phone numbers.......

When Morisato Keiichi misdials a takeout order he ends up with more then he could possibility imagine. A goddess promptly steps out of his dorm room mirror and is apparently there to grant one wish. In the biggest misinterpretation since, well, since ever, the goddess [whose name is Belldandy] ends up staying with Keiichi for as long as he wants her to stay with him.

Things are not as bad as they would seem however, if you look over the fact:
that Keiichi's dorm does not allow women so he and Belldandy move into an abandoned temple.
his younger sister, Megumi, will be attending the same college as Keiichi and spends quite a lot of time at Keiichi and Belldandy's place.
Belldandy's older sister Urd comes to stay with them [that should be, "makes trouble and comes to stay with them"].
Belldandy's younger sister, Skuld, gets lonely and comes to stay with Keiichi, his sister, Belldandy and Urd.
it takes Keiichi to the end of episode 3 before he puts any sort of move on Belldandy.
[Not wishing to debate the Oh My Goddess v.s. Ah My Goddess argument]
No matter what you call it Oh My Goddess is nice series and lots of fun to watch. Highly recommended.
---

eturn to main Anime page.

Previous review (Ogre Slayer).

Next review (Orguss).

oto the recent changes page.

isit the "pixselector" main index.

ip over to my home page.