Volume 1

Volume 2

Volume 3
---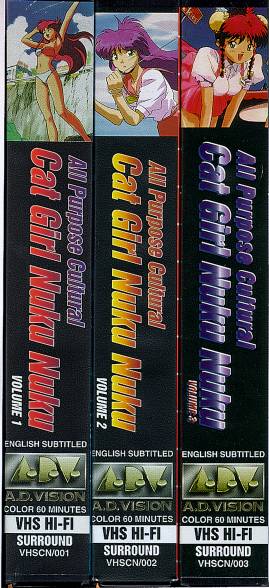 Type: series in 6 episodes on 3 tapes with 2 episodes per tape
Genre: Science fiction [OK, silly science fiction]
Dub/Sub: Subtitled
Length: 60 minutes each
Copyright date: 1992
Animation quality: 6.5
Rating:

                      V-------------V
          G-----------PG----------PG13-----------R------NC17

Why: v, n
General overall quality: 8
Distributed by: A.D. Vision

Ok, imagine, if you can... the Terminator as a 16 year old female high school student with the brain of a dead cat.

Pause

Pause

If you can do that then you have pretty much have the main plot of All Purpose Cultural Cat Girl, Nuku, Nuku.

You see, Kyusaku Natsume is a genus, really. He used to work for his ex-wife, Akiko Mishima, president of the large Mishima Heavy Industries company, as an inventor. One of the things he invents is the NK-1134 android and when Kyusaku finds out that his android is going to be used for nasty purposes, he leaves his wife [and the company] taking his, and Akiko's, son, Ryunosuke with him. He also takes the NK-1134 android with him, and, along the way, installs the brain of Ryunosuke's dead cat into the NK-1134 frame.

Simply enough, right??

Akiko does not take this well, and sends her elite team of Office- Lady Warriors after Kyusaku and Ryunosuke. She soon finds out what happened to the NK-1134 [grin 8-)]

This series is a lot of fun and well worth having [8-)]. It is, of course, fairly silly.....
---

eturn to main Anime page.

Previous review (Akira).

Next review (Angel Cop).

oto the recent changes page.

isit the "pixselector" main index.

ip over to my home page.