The Story of the Knight Sabers
Episode 1 - Knight Sabers (with extra videos)

Episode 2 - Born to Kill

Episode 3 - Blow Up

Episode 4 - Revenge Road

Episode 5 - Moonlight Rambler

Episode 6 - Red Eyes

Episode 7 - Double Vision

Episode 8 - Scoop Chase
---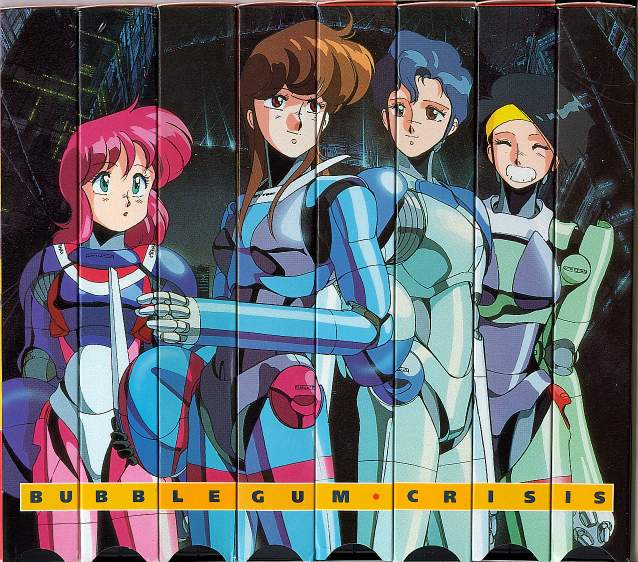 Type: series in 8 parts
Genre: cyberpunk, dark future, science fiction
Dub/Sub: Subtitled
Length: 30 to 53 minutes
Copyright date: 1987-1990/1991-1992
Animation quality: 6.5
Rating:

                                    V------V
          G-----------PG----------PG13-----------R------NC17

Why: v, al, n, mt
General overall quality: 8.5
Distributed by:AnimEigo

Bubblegum Crisis is the timeline sequel to AD Police Files. The year is 2032 and MegaTokyo has a couple major problems:
There is a large MEGA company called GENOM which is creating Boomers, an artificial life form.
Sometime Boomers adopt extremely antisocial behavior, like wanting to blow everything up.
Enter, the Knight Sabers, which turn out to be four young ladies, Nene, Priss, Sylia Stingray, and Linna, in battle suits [plus a couple other supporting characters].
Bubblegum Crisis is, for the most part, the story of the Knight Sabers over the course of about a year. The series touches upon their day to day lives as heroes, as well as their alias lives. The group is very diverse, coming from quite a number of backgrounds. 'Course, the bad guys are pretty diverse also.
This is a nice series, not as violent as AD Police Files, but with plenty of action to satisfy nearly everyone. Fans of Blade Runner and the like will probably enjoy Bubblegum Crisis. Not all eight episodes contribute to a single story line, as such. The following is a break down:
Episodes 1, 2 and 3 - This is the Knight Sabers doing what they do best, beating up Boomers.
Episode 4 - This is a lighter episode featuring a rather antisocial car.
Episode 5 and 6 - This is a rather touching story where Priss has to make a hard choice between saving MegaTokyo or a friend [who happens to be a very special Boomer].
Episode 7 - Revenge, Revenge, Revenge, Revenge. A talented singer, who happens to be associated with a rival company of Genom, wishes to take revenge on Genom by killing the head of the company. The Knight Saber's involvement includes protecting a R&ampD developer who works for Genom.
Episode 8 - The closing episode. It seems very clear that they had a lot of fun with this one. The main character is Nene. She is assigned the task of watching the AD Police Chief's niece [yes, Nene's day-job boss]. This young 18 year old wants to be a reporter, and as her first scoop she wants to expose the true identities of the Knight Sabers.
Any of the above story arcs could probably be purchased or watched on its own.
---

eturn to main Anime page.

Previous review (Blue Seed).

Next review (Capricorn).

oto the recent changes page.

isit the "pixselector" main index.

ip over to my home page.